Chief Minister Mr. Vijay Rupani announced
some very important decisions which have been implemented on an urgent basis for the flood affected areas of Gujarat thereby depicting his sensitivity towards the welfare of the people of Gujarat.
GET LATEST UPDATES IN YOUR MOBILE.*
JOIN WHATSAPP GROUP FOR ALL EDUCATIONAL UPDATES, LATEST PARIPATRA, GOVERNMENT-PRIVATE JOB, GK & STUDY MATERIALS FOR ALL COMPETITIVE EXAMS.
CLICK ON BELOW LINK TO JOIN AUTOMATICLLY MY WHATSAPP GROUP.
GROUP RULES:-
GROUP MA ADMIN SIVAY KOI PAN MEMBERS A POST KARVI NAHI.
BAKI REMOVE KARVAMA AAVSHE.
CLICK HERE TO JOIN MY WHATSAPP GROUP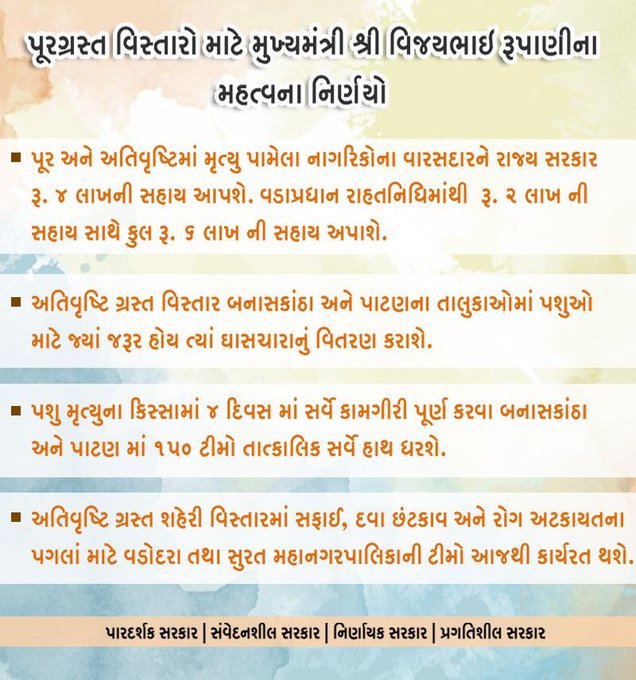 The decisions are as under
The families of the deceased people shall receive an aid of Rs. 4 lakhs from the state government. In addition to that, a sum of Rs. 2 lakh shall also be given from the Prime Minister's relief fund which means that a sum of Rs. 6 lakhs in total shall be allocated to the families of the deceased.
Distribution of fodder in the flood affected areas of Banaskantha and patan for the livestock as and when reijuired.
150 teams in Banaskantha and Patan shall carry out surveys on an urgent basis to record the number of deaths of livestock and complete all the req uired work in 4 days.
The Surat Municipal Corporation and the vadodara Municipal Corporation shall be actively working to spray the necessary medicines in the urban areas to prevent the spread of diseases during rains.
The Chief Executive Officer (C. E. O) of Gujarat Municipal Finance Board and three chief Officers have been given the re sponsibility to supervise the aforesaid and ensure effective implementation of the same.