Gujarat Quiz Question Bank 2017 For Students And All Competitive exams
Gujarat Quiz questions and answers. Gujarat is a state in western India. It has an area of 75,686 sq mi with a coastline of 1,600 km.Improve your knowledge about this state and its capital. In this File You will find very interesting facts about Our State Gujarat. This is a PDF book that will help you a lot for any Competitive exams Preparation. GujaratQuiz Is a official portal for the Students of Gujarat which provides GK Related Questionsand answers about Gujarat.
At this moment everyone can Download the Approved Question Bank -Gujarat Quiz praveshika for School and college level Students. Students and Teachers can also register For GujaratQuiz. Multiple Choice General Knowledge Quiz Questions and Answers on Gujarat. Quizzes on 28 States of India. Gujarat Quiz Questions and Answers.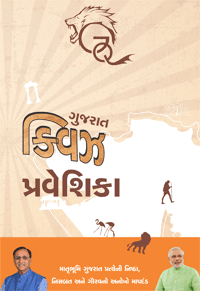 File Name : Gujarat Quiz Praveshika
Edition : 2017
File size : 3.6 MB